Ergonomic Work Place Assessment Rydalmere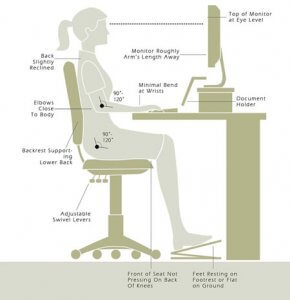 At Physiotherapy Professionals Parramatta we are proud of working with people and businesses with our practical approach. Adjustments to equipment can be important, but not as important as finding a solution that suits the worker. We will make changes on the spot with your current equipment, give key pieces of advice and write a report in as much detail as you require. This can include suggestions for any new equipment to make your work station more suited to the employee. All our assessments are carried out by experienced and qualified Physiotherapists who treat work related injuries every day. We offer flexible services to meet your business requirements.
What we offer:
Ergonomic Workplace Assessment
Onsite Physiotherapy Treatment
Pre Employment Screening
Workshops and Training Sessions
Wellness programs – Massage and Exercise
Onsite Physiotherapy Treatment
Our Physiotherapists can significantly improve staff productivity in the workplace by assisting staff with their work station setup, postural correction, office stretches or any other injury they may have. Having correct posture in the office is essential especially when we spend long periods of time in sitting.
Ergonomic Workstation Assessments
Ergonomic worksite assessments involve assessing sitting posture, desk designs, and seating arrangements to minimise repetitive strain injuries (RSI). This may include adjustments to seat height, back rest angle, monitor height, keyboard and mouse position. We can also provide advice and recommendations on standing desks.
Pre Employment Screening
As part of new staff training, we can come to your workplace, whether it's an office, construction site or retail store and run through an individualised exercise routine. Warming up before work ensures staff are conducting themselves in a safe manner in work sites which require repetitive movements or manual handling.
Wellness Programs: Massage
Our massage therapists are available for onsite services and have been trained in a range of soft tissue techniques to reduce muscle tension. Massage is one of the most effective stress management techniques available and can be very effective in keeping workers relaxed and injury free.
Corporate Physiotherapy
Not only do we offer onsite Physiotherapy services to corporate offices throughout Sydney, we also offer a priority service at our clinic for any workers that need further assistance. For more information on how we can further assist your corporate Physiotherapy needs, please call our clinic number on 0479 080 800 or send an email on [email protected] for further details. Our Physiotherapists are Medicare, NDIS, DVA and Work Cover approved, specialising in injury management and rehabilitation to get you back to full function.